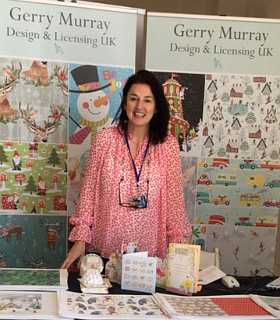 ABOUT GERRY MURRAY DESIGN & LICENSING
We consist of a team of amazing international artists, who individually have heaps of experience and wonderful unique styles. We have been licensing for over 20 years now and we collectively offer one of the strongest and most visually exciting portfolios to view.
We supply art for stationery, gift, novelty, home décor, greeting cards, fabric, book illustration, ceramics and interior markets; with our art used on many major manufacturers' licensed products from the UK to USA and Australia. We offer outright purchase, a commission facility, as well as a growing license portfolio.
Our extensive experience means that we can develop product ideas and ranges specially for our clients. Our art has found its home on the product lines of some of the largest art, design and illustration companies across the world. We have a fantastic range of artwork on our online portfolio which is updated daily. We take commissions and are always happy to work on new briefs.
Please drop us a message and we will set you up with your personal login details, so you can enjoy unrestricted access to our entire portfolio.
See us at Surtex in New York City every year, where we have been exhibiting for the past ten successive years. We also exhibited at Blue Print in May each year. Looking forward to working with you.
Gerry X